Reemo for Organizations
Reemo for Organizations allows you to manage your users, computers, secure browsers and permissions.
Create your first Organization
Click on the menu Organization, select Create an Organization

And click on GET STARTED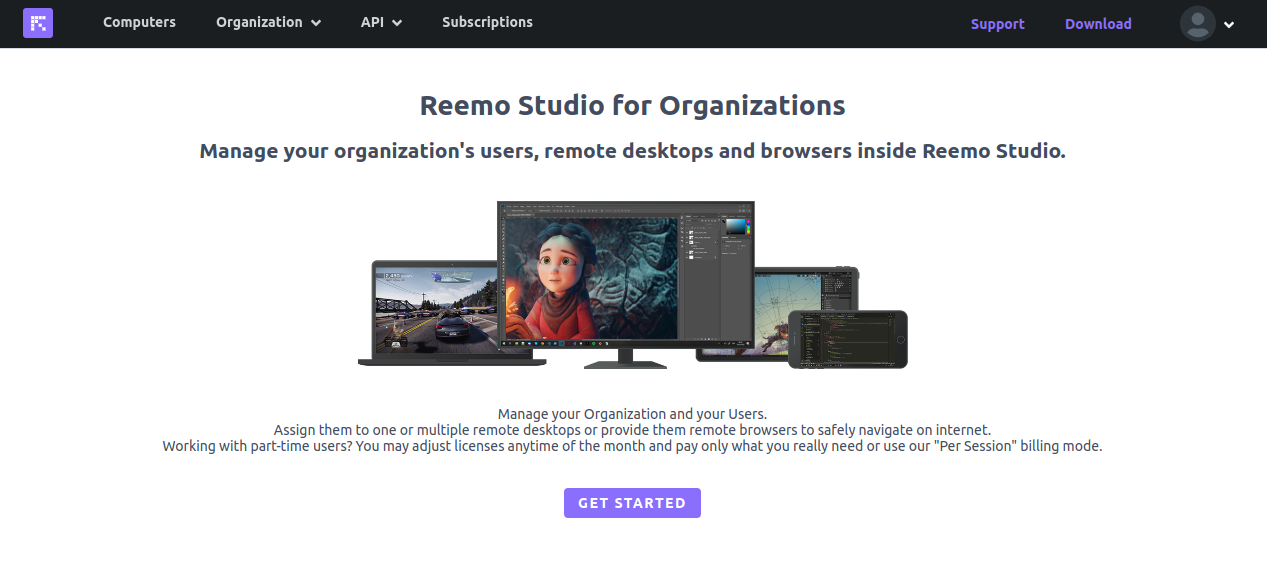 You will be invited to choose a deploy mode, be sure to select one that suits your needs:
Reemo Cloud: Your organization will be deployed and managed on the reemo.io cloud instance.

Private Cloud: Your organization will be deployed on a separate cloud instance. This instance will be dedicated to your organization with a custom URL. This deploy mode will give you access to a complete Admin Area for the instance.

On Premise: You will be responsible to install the Reemo Instance on your own hardware. This is for advanced users and organizations who needs a total control on the Reemo Instance and database.

Reemo Enterprise: This deploy mode is for Organizations without technical knowledge but that still needs a dedicated infrastructure. Contact us for more info.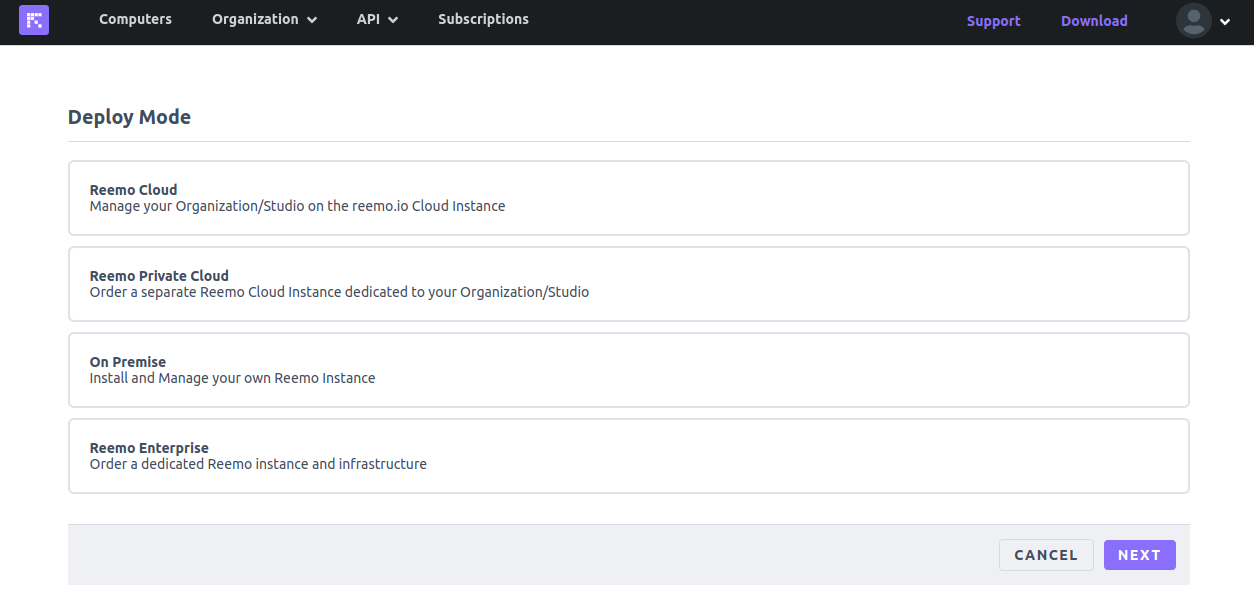 Once your deploy mode is selected, you will be invited to choose your Organization name and shortname and licenses. Theses names should be unique
Organization Name: Will be displayed on your custom login page and in your invitation emails.

Shortname: Will compose your custom login URL page to send to your users if you configure alternative connection methods (SSO).
We offer 2 licensing models for our remote products:
Per User: If you don't know how many users will use the licenses at the same time. One user associated to a computer/browser will take one license.

Per Session: If you want to control the maximum number used at the same time. One open session to a computer/browser will take one license, which will be freed upon disconnection.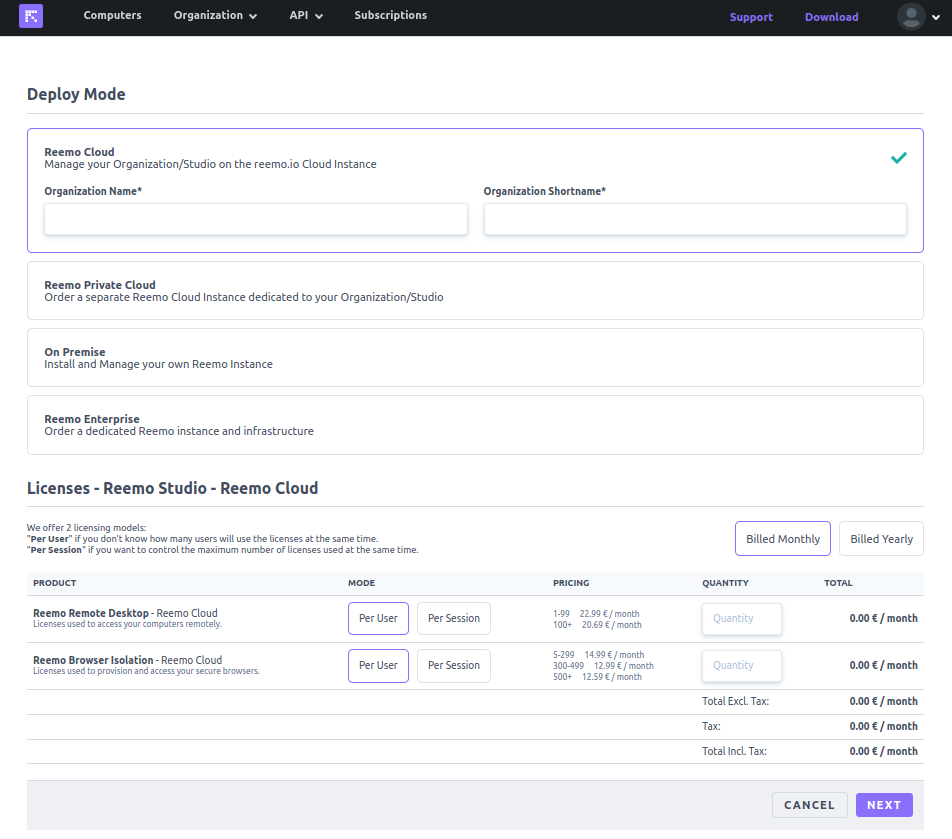 Next fill your billing details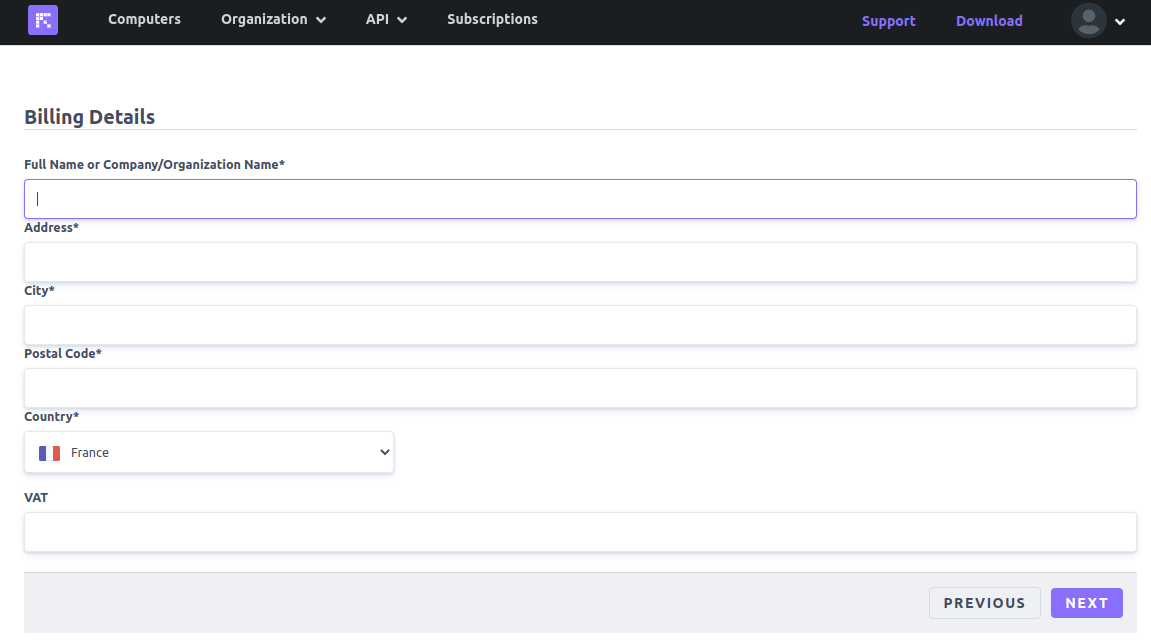 Once your billing details filled, you will be invited to select a payment method if you already have one registered, or choose a new payment method.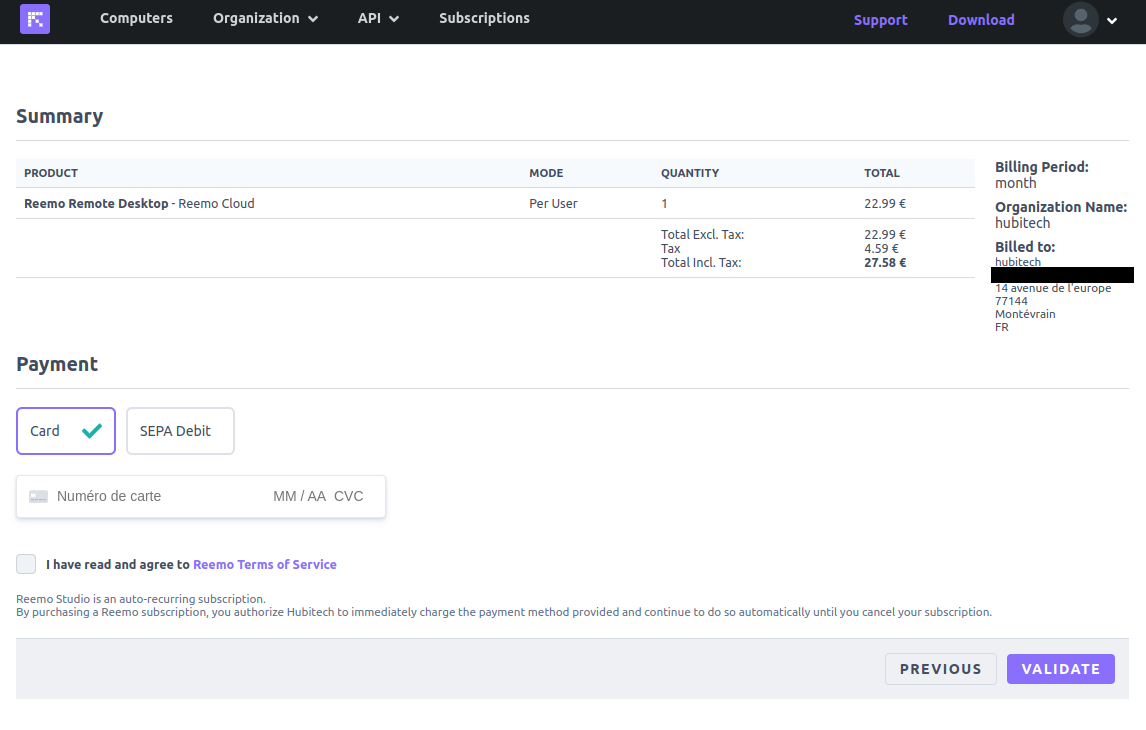 Once payment is accepted, you will see this confirmation message and receive an email confirming your purchase.

Note
Please note that Reemo is an auto-recurring subscription, if you wish to stop/cancel your subscription, you will be able to do so in the Subscriptions page.
Manage your Organization
Install Reemo on your Organization Computers
Silent Installation
Silent installation allows you to install the Reemo agent on several machines on the same network in an automated way.
Example on Windows
PSEXEC example
set

 

ip

=




set

 

login

=




set

 

password

=




set

 

studio_key

=




PsExec

.

exe

 \\

%

ip

%

 

-

i

 

-

u

 

%

login

%

 

-

p

 

%

password

%

 

cmd

 

/

c

 

md

 

"c:\program files

\r

eemo"




PsExec

.

exe

 \\

%

ip

%

 

-

i

 

-

u

 

%

login

%

 

-

p

 

%

password

%

 

cmd

 

/

c

 

"powershell Invoke-WebRequest 'https://download.reemo.io/reemo-silent-installer.zip' -OutFile 'c:\Program Files

\r

eemo

\r

eemo-silent-installer.zip'"




PsExec

.

exe

 \\

%

ip

%

 

-

i

 

-

u

 

%

login

%

 

-

p

 

%

password

%

 

cmd

 

/

c

 

"powershell Expand-Archive -LiteralPath 'c:\Program Files

\r

eemo

\r

eemo-silent-installer.zip' -DestinationPath 'c:\Program Files

\r

eemo

\'

"




PsExec

.

exe

 \\

%

ip

%

 

-

i

 

-

u

 

%

login

%

 

-

p

 

%

password

%

 

cmd

 

/

c

 

"c:\program files

\r

eemo\silent-installer

\v

credist_x64.exe" /q /norestart




PsExec

.

exe

 \\

%

ip

%

 

-

i

 

-

u

 

%

login

%

 

-

p

 

%

password

%

 

cmd

 

/

c

 

"c:\program files

\r

eemo\silent-installer

\v

c_redist.x64.exe" /q /norestart




PsExec

.

exe

 \\

%

ip

%

 

-

i

 

-

u

 

%

login

%

 

-

p

 

%

password

%

 

cmd

 

/

c

 

copy

 

"c:\program files

\r

eemo\silent-installer

\r

eemo-autoupdater.exe" "c:\program files

\r

eemo

\"




PsExec

.

exe

 \\

%

ip

%

 

-

i

 

-

u

 

%

login

%

 

-

p

 

%

password

%

 

cmd

 

/

c

 

"c:\Program Files

\r

eemo

\r

eemo-autoupdater.exe" -install -key 

%s

tudio_key%



BATCH example
set

 

studio_key

=




md

 

"c:\program files

\r

eemo"




powershell

 

Invoke

-

WebRequest

 

'https://download.reemo.io/reemo-silent-installer.zip'

 

-

OutFile

 

'c:\Program Files

\r

eemo

\r

eemo-silent-installer.zip'




powershell

 

Expand

-

Archive

 

-

LiteralPath

 

'c:\Program Files

\r

eemo

\r

eemo-silent-installer.zip'

 

-

DestinationPath

 

'c:\Program Files

\r

eemo

\'




"c:\program files

\r

eemo\silent-installer

\v

credist_x64.exe"

 

/

q

 

/

norestart




"c:\program files

\r

eemo\silent-installer

\v

c_redist.x64.exe"

 

/

q

 

/

norestart




copy

 

"c:\program files

\r

eemo\silent-installer

\r

eemo-autoupdater.exe" "

c

:

\

program

 

files

\

reemo

\

"




"c:\Program Files

\r

eemo

\r

eemo-autoupdater.exe" -install -key 

%s

tudio_key%